The Vancouver public transit system is convenient and efficient. In the public's view, there are always SkyTrain and buses available for residents and visitors to get around, but there are still many other kinds of transportation accessible in fact.
This article will introduce the public transit systems and other transportation in the Greater Vancouver area for visitors and international students. 
TransLink is the statutory authority transportation network of Metro Vancouver (Greater Vancouver) in British Columbia. It is the major Vancouver public transit system responsible for public transport, major roads, and bridges. 
Metro Vancouver's public transit system, namely TransLink, is ranked the 22nd best public transit network out of 60 crucial regions internationally. It can also be called the best public transit system in Canada.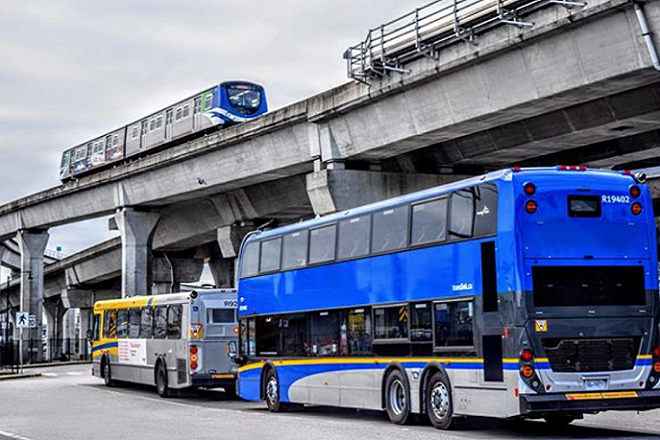 All of the Vancouver public transit systems, including the SkyTrain, SeaBus, and buses, use the same zone fare system, while West Coast Express uses another zone fare system. The fare is calculated based on the number of zones traveled, each zone represents a certain distance from the city center. 
Buses have a 1-zone fare while SkyTrain fares are based on the number of zones the passenger will travel through, which can be 1, 2, or 3 zones depending on the distance traveled.
Passengers can use a Compass Card to pay for their fares. It offers discounts on fares compared to purchasing single-use compass tickets, especially for frequent transit users.
A single fare on the Vancouver public transit system is valid for 90 minutes from the time it is purchased. During this time, passengers can make transfers between different modes of transportation within the system, such as transferring from a bus to the SkyTrain or from the SeaBus to a bus, without having to pay an additional fare.
However, it's important to note that a single fare only allows for travel within the number of zones specified at the time of purchase. If a passenger travels beyond the number of zones specified on their fare, they will need to pay an additional fare to cover the additional zones traveled. Additionally, if the 90-minute time limit expires before the passenger completes their journey, they will need to purchase a new fare.
There is a discounted flat rate for travel during weekends and holidays. This fare policy applies all day on weekends and holidays, and applies for journeys starting after 6:30 p.m. on weekdays. The flat rate fare is equivalent to a one-zone fare and allows passengers to travel throughout the entire SkyTrain system for a single, discounted price.
Vancouver Public Transit Systems
The Vancouver public transit system can be summarized as buses, SkyTrain, West Coast Express, and SeaBus.

Vancouver has one of the best public transportation networks in Canada. The public transportation agency, TransLink, provides a variety of bus routes throughout Greater Vancouver. 
There are 2 ways to check bus schedules. However, the live information for bus services under inclement weather may not be available. 
Download the Transit app

Use Google Maps 
There are 3 ways to pay your bus fare. Passengers only need to tap the card/ticket on the card reader, or place the coins or bills into the fare machine (no changes available) near the bus doors. 
Compass Card / Compass Ticket

Contactless Payment Cards / Mobile Wallet

Cash
The most convenient payment method is the "Compass Card". Compass Cards can be purchased from compass vending machines at SkyTrain, SeaBus, and West Coast Express stations, the TransLink Customer Service Centre at Waterfront Station, and major BC Ferries routes. 
Although there are 3 fare zones across Metro Vancouver, all bus transit only counts as a 1-zone fare. If a passenger uses Compass Card to pay the bus fare, the 1-zone fare will be CAD2.50. 

The rapid transit in Vancouver is called SkyTrain. It is one of the fastest modes of transportation in Metro Vancouver that runs above and below the ground. Traveling from the Create Career College Campus in Burnaby to downtown Vancouver, you can arrive in just 18 minutes. 
Currently, the SkyTrain consists of 3 lines. 
Expo Line: It is the oldest line that serves the cities of Vancouver, Burnaby, New Westminster, and Surrey. It operates 2 routes: 1 from Waterfront Station (downtown Vancouver) to King George Station (Surrey); 1 from Waterfront Station (downtown Vancouver) to Production Way–University Station (Burnaby).

Millennium Line: It travels between east Vancouver, Burnaby, Port Moody, and Coquitlam. It runs from VCC-Clark Station in Vancouver to Lafarge Lake-Douglas Station in Coquitlam. 

Canada Line: It connects downtown Vancouver, the Vancouver International Airport (YVR), and Richmond. It runs from Waterfront Station in Vancouver to Richmond-Brighouse Station in Richmond.
The SkyTrain in Vancouver uses a fare system based on zones, where the fare is determined by the number of zones a passenger travels through during their trip. There are 3 fare zones in total and the fare of each zone is fixed, regardless of the line passenger uses.
If a passenger travels within one zone, they pay a 1-zone fare. If they travel through two zones, they pay a 2-zone fare, and so on. 
The fare for passengers using a Compass Card to get a ride on SkyTrain is as follow:
1-Zone Fare: CAD2.50

2-Zone Fare: CAD3.65

3-Zone Fare: CAD4.70

SeaBus is a public transportation service that connects downtown Vancouver and North Vancouver across Burrard Inlet. Not only tourists, but also Vancouver residents use it in their daily lives, such as commuting to work or school. 
The SeaBus can carry up to 395 passengers every time and departs every 15-30 minutes. The journey takes approximately 12 minutes each way and offers stunning views of the Vancouver skyline, the North Shore mountains, and the Burrard Inlet. 
The SeaBus from Waterfront (downtown Vancouver) to Lonsdale Quay (North Vancouver) is counted as a 2-zone fare. For Compass Card passengers, the transit fare will be CAD3.65.

West Coast Express is a commuter rail service that is operated and managed by TransLink in British Columbia. It provides services for passengers to travel between the suburbs of Vancouver and the city of Mission.
The trains are in bi-level design and are equipped with a wide range of amenities, such as washrooms, bike racks, and luggage racks. It is a popular choice for employees who want to avoid driving on the busy highways between Vancouver and its suburbs during peak hours on weekdays. Tourists can also take the train to explore the scenic Fraser Valley region.
For the fares of the Vancouver public transit method, please refer to the WCE Full Fare Pricing Table for details.
Other Transportation Methods in Vancouver
There are other transportation methods in Vancouver besides public transit, including taxis, creekside ferries, bike rentals, car rentals, and more. 

There are 2 major ferry services in Vancouver that provide transportation around False Creek, a charming inlet in the heart of the city – False Creek Ferries and Aquabus.
False Creek Ferries has 9 dock locations, while Aquabus has 8. Both ferry services provide convenient transportation around False Creek, allowing passengers to see some of Vancouver's most popular attractions from the water. 
Both False Creek Ferries and Aquabus are known for their frequent and reliable service, as well as their affordable fares. They are a convenient way to get around the city and see some of Vancouver's top sights from a different perspective.

Morning cycling through English Bay and Stanley Park is highly recommended.
There are several bike-sharing services in Metro Vancouver. You can use it conveniently, such as renting a bicycle near your home and returning it near your destination.
Mobi by Shaw Go is Vancouver's most popular bike-sharing service. There are different kinds of rental methods, from pay-per-ride to annual passes. So you can choose a plan according to your purpose and usage. 
Driving can be one of the most convenient transit methods in Vancouver. It is convenient and flexible for people who live in suburban areas or have to commute long distances. 
With a car, we can travel directly to the destination without needing to transfer or waiting to transfer. Moreover, we can have more time control over the journey and carry more items along with us.

Rental cars are recommended for short-term stays. There are many rental car companies that offer daily or monthly rentals.
But if you only use the car for a few hours, a car-sharing service is much more suitable. Vancouver's most popular car-sharing service "Evo" can be rented for minutes or hours. 
One advantage of using the Evo car rental service in Vancouver is that customers only pay for the time they use the car, without having to worry about additional costs such as insurance, maintenance, and fuel. This means that customers can save money compared to owning a car, especially if they only need to use a vehicle occasionally. 
Additionally, Evo cars are parked throughout the city, making them easily accessible for customers who need a car at short notice. And all vehicles are equipped with bike and ski racks for outdoor use.
Leasing or buying a car is a good option for long-term stays in Vancouver.
Buying a car can provide a sense of ownership and control over one's transportation, but it comes with additional expenses such as insurance, maintenance, and parking. Additionally, international students may face challenges such as limited credit history and residency status when trying to purchase a car.
Leasing a car can provide a more affordable option for students who need a car for a shorter period of time, but it also has limitations such as mileage restrictions and potential fees for excessive wear and tear.

Taxi services vary by city, such as Yellow Cab in the downtown Vancouver area, Richmond Taxi in the Richmond area, Bonny's Taxi in Burnaby, etc. If you need a taxi, you can either call the taxi company or download their app.
There are also ride-hailing services such as Uber, Lyft, and Kabu. This is a very convenient service as you can easily reserve a ride and pay with your smartphone. If there are no cars around or before and after peak times, the fare may be higher.
In conclusion, Vancouver maintains a comprehensive public transit system that offers residents and visitors a variety of options for getting around the city. From the SkyTrain and SeaBus to the bus and express railway services, there are many ways to travel efficiently and affordably in Vancouver. 
The zone fare system provides flexibility for commuters and travelers, while the use of a Compass Card simplifies payment and provides discounts for regular riders. By utilizing the resources available through the Vancouver public transit system, individuals can explore the city, reduce traffic congestion, and decrease their environmental impact.
Apart from the Vancouver public transit systems, people can consider using other ways of transportation in Vancouver. 
Bike-sharing services, for instance, such as Mobi and LimeBike provide a convenient and eco-friendly option for short trips around the city. Furthermore, ride-sharing services such as Uber and Lyft are available for those who prefer the comfort and convenience of a personal ride. For longer journeys or weekend getaways, car rental services such as Evo and Modo offer a flexible and affordable alternative to owning a car. 
By considering all the transportation options available in Vancouver, individuals can choose the best option for their needs and preferences while contributing to a more sustainable city.